The Palm Springs City Hall. California.
Architects: Clark, Frey, Chambers & Williams. 1957.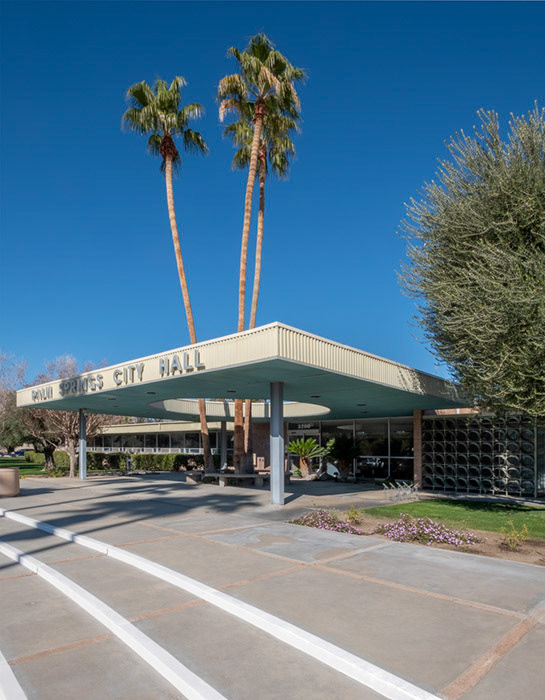 John Porter Clark, AIA, studied architecture at Cornell University, and then moved to Pasadena to work for the architectural firm of Van Pelt & Lind. In 1932, he established the firm's office in Palm Springs and designed a number of local buildings for them. Clark met Albert Frey, FAIA when Frey came to Palm Springs in 1934 to supervise construction of the Kocher-Samson building. Frey had earned his architectural diploma at the Institute of Technology in Switzerland in 1924 and relocated to Paris in 1928, where he worked briefly for Le Corbusier before emigrating to the United States in 1930. There he formed a partnership with New York architect A. Lawrence Kocher, who sent Frey to Palm Springs to supervise construction of a Modern mixed-use building for Kocher's brother, Dr. J. J. Kocher. From 1935 to 1937 John Porter Clark and Frey collaborated on a number of projects in Palm Springs under the name and license of Van Pelt & Lind. In 1939 they formed their own partnership, which would last for nearly 20 years and would permanently alter the course of architecture in the Coachella Valley. They are today regarded as two of the founders of the "Desert Modern" style of architecture. E. Stewart Williams was the son of Dayton, Ohio architect Harry Williams, who designed the offices of the National Cash Register Company in Dayton, as well as the Plaza shopping center and Carnell Building in Palm Springs for National Cash Register heiress Julia Carnell. The younger Williams studied architecture at Cornell University and the University of Pennsylvania, then taught for several years at Bard College in New York. In the late 1930s he worked for designer Raymond Loewy, and during World War II designed ships for the US Navy. After the war Williams relocated to Palms Springs and formed a partnership with his father, who had settled there in 1942, and his brother Roger.